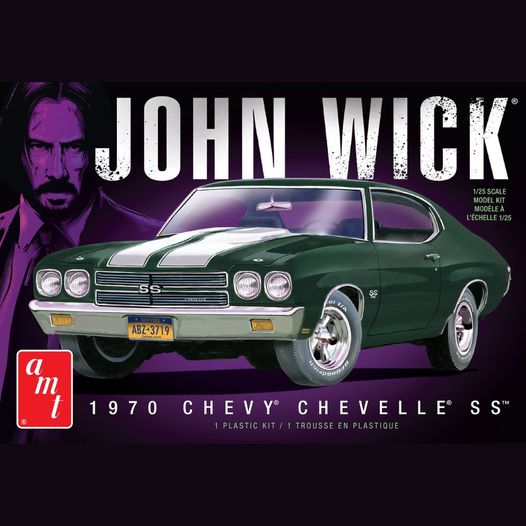 ROUND 2 IS CHECKING INTO THE CONTINENTAL WITH JOHN WICK
AMT JOHN WICK 1970 CHEVY CHEVELLE SS (1:25 SCALE)
Welcome to the Continental, where Round 2 LLC is thrilled to announce a new licensing partnership with the popular action movie franchise, John Wick. Round 2 will produce and sell a series of 1:18th Diecast, 1:64th Diecast, Model Kits, and Slot Cars. You can expect the first items to hit the market in the first quarter of 2024.
John Wick stars Keanu Reeves on a mission to
enact revenge on those who stole his 1969 Boss 429 Mustang and destroyed everything he loved. Released in 2014, the movie is viewed as one of the greatest modern action movies and is so popular that it has gone on to spawn 3 sequels, an upcoming spin-off movie, and an upcoming spin-off tv show. This unexpected franchise has entertained millions and has put some incredible American Muscle on the big screen.
AMT is thrilled to start off with the 1970 Chevy Chevelle SS model kit in 1:25 scale! With a deep forest green paint job, it makes it easy for riding stealthy in the night. Build your Chevelle SS and get ready to take down the Marquis in style. For more info on upcoming Round 2 John Wick product check out @autoworlddiecast and @johnnylightningdiecast!