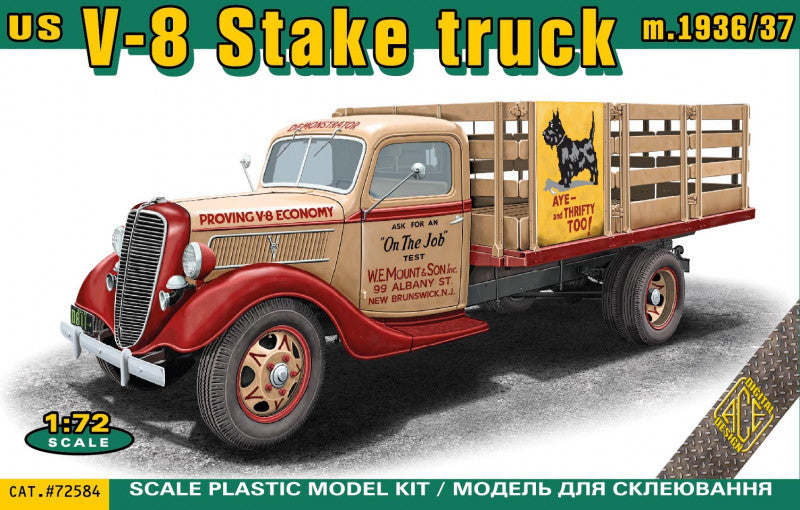 Ace has just released three new kits of unusual subjects. Drop us an email and we'll advise of availability and we'll add them to the website for easy ordering. Some info on Ace Models is below the table.
| | | | |
| --- | --- | --- | --- |
| ACE PLASTIC MODELS | AMO-72457 | 1/72 Eland90 British 4x4 Light Armoured Car | $38.95 |
| | | | |
| --- | --- | --- | --- |
| ACE PLASTIC MODELS | AMO-72581 | 1/72 WWII Soviet ML20 152mm Howitzer | $39.95 |
| | | | |
| --- | --- | --- | --- |
| ACE PLASTIC MODELS | AMO-72584 | 1/72 US V8 1936/37 Stake Truck | $36.95 |
Discover the Impeccable World of Military Modeling with ACE MODELS

At ACE MODELS, they have earned a stellar reputation for their exceptional attention to detail and accuracy in the realm of military modeling. Their extensive collection of military model kits spans various eras, offering you the opportunity to recreate iconic battles and pivotal historical events. From formidable tanks to armored vehicles, each kit is meticulously designed to capture the true essence of these powerful machines and the unwavering bravery of the soldiers who operated them.

Calling all Plastic Model Truck Kit Enthusiasts!

For those passionate about plastic model truck kits, ACE MODELS presents an enthralling range of options. Whether your interest lies in modern vehicles or vintage classics, their truck model kits promise an immersive experience like no other. With an emphasis on realistic details and precise engineering, these kits allow you to craft exquisite replicas of your favorite trucks, adding depth and authenticity to your prized collection.

Relive the Era of World War II with ACE MODELS' WW2 Tank Models

Transport yourself back in time to the monumental era of World War II with ACE MODELS' WW2 tank models. Delve into the historical significance of this pivotal time in history as you assemble these intricately designed kits. Boasting an unwavering focus on accuracy and realism, their WW2 tank models truly capture the essence of those legendary war machines, enabling you to recreate historic battles and pay tribute to the bravery of the soldiers who fought valiantly in them.

Beyond Military Models - Embrace the World of Plastic Scale Model Kits

At ACE MODELS, their offerings go beyond just military models. They are proud to present a diverse range of plastic scale model kits suitable for hobbyists of all skill levels. Whether you're keen on diorama kits to create captivating scenes or general plastic scale model kits, our thoughtfully curated selection ensures there's something to captivate every enthusiast. Immerse yourself in the captivating world of miniature modeling and unleash your creativity with ACE MODELS.

Choose ACE MODELS for Unrivaled Precision and Realism

When it comes to plastic model kits, ACE MODELS stands tall as a symbol of precision, detail, and authenticity. With an array of military models, truck kits, and plastic scale model kits, they cater to all kinds of modelers and history enthusiasts. Step into the world of ACE MODELS and embark on an exciting journey of craftsmanship, where you can relive historical moments and create stunning masterpieces to cherish for a lifetime.